SKU: SHAWL
Basic chaddars that are perfect to cover yourself for the practice of meditation.
See also our smoother light cotton chaddars
Size: roughly 46x100 inches
except smaller "women's" shawl around 36x80 inches
Made in India

Retail Only
Description

Details

Reviews
The material for mainly the white chaddars is slightly rough cotton, clearly thicker than our other cotton shawls.
The other chaddars are a simple Indian wool. All these chaddars are hand-made, and as such, are not each exactly the same.
The color stripes can vary on the different shawls depending on what is in stock
Chaddars in order of appearance:
Larger "men's" white cotton chaddar - Smaller "women's" white cotton shawl,
Reddish wool shawl/chaddar - Brown wool shawl/chaddar
Bright orange shawl/chaddar - brownish orange shawl/chaddar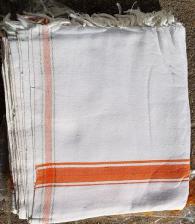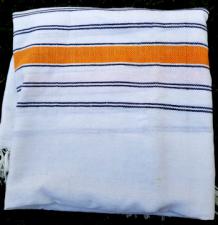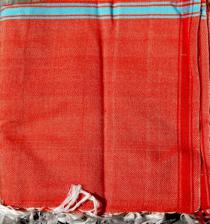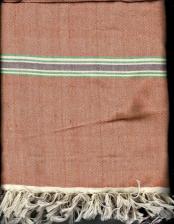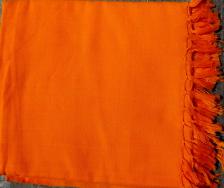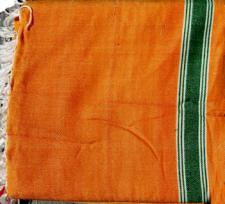 Colors online are close but will not exactly match the color you see in person.
NOTE: These shawls/chaddars are made in Jayrambati and Kamarpukur (the birthplaces of Holy Mother and Sri Ramakrishna) as part of a cottage industry for poor rural women workers started by the Ramakrishna Mission. (Click on the link for more information about the women who make the shawls and about rural development through The Ramakrishna Mission in India).
Review
WONDERFUL!!!
I really love this! Beautifully made. It is perfect for me, and I use it every day. Thank you very much!
Review
Excellent purchase
Shawl was good for my requirement. Recommend to others.
Review
COLOR IS UNPLEASANT
I purchased an orange shawl (which is not the picture I am being presented as I write this review.) The color is sickening and difficult to look at, so I may bleach it out and re-dye it. I have a lot of peach and orange clothing, but this color clashes with all of it for some reason. Wear it outside if you want to stand out in a crowd Otherwise the size and material are adequate for a lightweight meditation shawl, and I will definitely continue to use it.
Review
nice and simple
nice large size for light weight shawl for prayer or meditation- simple cotton- good - no shrinkage
Review
Meditation shawls and Photos
The shawls are beautiful and soft. The fact that they are handmade by artisans close to one of the holy sites for the Ramakrishna Order is in fact very special.

The photos are great and are dressing my altar. They greatly enhance my meditation and bhakti practice.
Review
Loving warmth
This Chaddar wraps perfectly and everytime I wrap myself in meditation I feel sustained love and warmth.
Review
Shawl made of cotton
It s nice cotton chaddar for yoga and other uses good size
Review
meditation shawl
i love the cotton gold meditation shawl i bought. it is very sentimental because it comes from the home place of Sri RamaKrishna.
it is hand spun cotton shawl and i like to cover myself with it to
meditate morning and evening. I know it is being enthused with
divine energy every time i meditate. such mental state helps you tune in faster. it makes you feel grounded i feel.
Review
Perfect, simple prayer shawl
This was everything I wanted: a simple prayer shawl that is big enough to easily tuck in around my legs and base, warm enough for winter time and, since it's cotton, cool enough for summer. It's one of the biggest shawls I've ever seen but not too unwieldy. I foresee many contented sessions of silence and sitting with this shawl.